MENCARI BATAS "LEGAL ERROR" DAN "MISCONDUCT"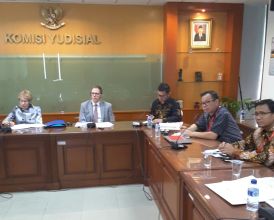 ---
Komisi Yudisial RI pada tanggal 10 November 2016 mengadakan "International Symposium on the Line between Legal Error and Misconduct of Judges," bertempat di Kantor Komisi Yudisial, jalan Kramat Raya Jakarta. Hadir dalam acara ini perwakilan dari lembaga-lembaga negara, akademisi, dan para aktivis pemantau peradilan.
Pembicara dalam simpoisium ini adalah Sukma Violetta (KY), H.M. Syarifuddin (MA), Maria N. Greenstein (Executive Director Alaska Commission on Judicial Conduct, USA), J.D. Gingerich (Director of Arkansas Administrative Office of the Court, USA), Margareth Beazley (the Judicial Commission of the New South Wales, Australia), dan Julien Anfrus (Member of the Conseil d'Etat, Prancis). Setelah sesi simposium selesai, para peserta kemudian diundang untuk menghadiri acara focus group discussion (FGD). Dosen Jurusan Hukum Bisnis (Business Law) BINUS, Shidarta, diundang untuk menyampaikan pandangannya di sesi acara FGD ini, bersama dengan J.D. Gingerich, Margareth Beazley, dan para akademisi, aktivis LSM, dan praktisi peradilan lainnya.
Dalam kesempatan itu, Shidarta menyampaikan pentingnya putusan-putusan pengadilan dieksaminasi. Tidak seperti keinginan Mahkamah Agung agar hanya putusan-putusan yang sudah berkekuatan hukum tetap saja yang dieksaminasi, Shidarta menekankan penting juga putusan-putusan yang berada di tataran tingkat pertama dan banding untuk disoroti, khususnya yang menarik perhatian masyarakat luas. "Tidak perlu ada kekhawatiran bahwa eksaminasi seperti ini bakal secara negatif mempengaruhi hakim-hakim di tingkat pengadilan di atasnya," kata Shidarta. Bagaimanapun ia melihat dalam kondisi arus informasi yang demikian intens saat ini, hakim-hakim dapat saja dipengaruhi opini dari berbagai pihak dan tulisan-tulisan eksaminasi yang baik justru memberi kontribusi positif dalam membantu hakim merefleksikan putusan yang akan diambilnya.
Dari FGD ini juga diperoleh ketegasan tentang batas-batas antara "legal error" yang bukan berada di bawah kewenangan Komisi Yudisial dan "misconduct" yang menjadi area kewenangannya Komisi Yudisial. Menurut Gingerich, sepanjang para pihak dapat melakukan upaya hukum atas dalih telah terjadi suatu kesalahan/pelanggaran, maka kesalahan/pelanggaran itu belum dapat dimasukkan ke dalam kategori "misconduct". Dengan demikian, Komisi Yudisial akan menangani kasus-kasus yang memang di dalamnya ada dugaan kesalahan/pelanggaran yang tidak dapat dipakai oleh para pihak untuk melakukan upaya hukum ke pengadilan berikutnya. (***)