MENGKRITISI CARA BERHUKUM DAN PRAGMATISME PENDIDIKAN
"Cara berhukum sangat erat kaitannya dengan budaya masyarakat. Oleh karena budaya terbentuk melalui proses yang panjang, maka tatkala kita ingin mengubah cara berhukum, kita perlu dukungan lembaga yang mampu merekayasa masyarakat agar mampu berhukum secara lebih sehat. Lembaga ini adalah pendidikan, termasuk pendidikan tinggi. Dengan demikian pendidikan tinggi tidak boleh dikelola dengan motif-motif pragmattis semata," demikian paparan Shidarta, Ketua Jurusan Business Law BINUS di hadapan sivitas akademika Universitas PGRI NTT, Kupang, tanggal 30 Juni 2015. Kehadiran Shidarta di Universitas PGRI NTT atas undangan dari pimpinan dan sejumlah dosen universitas tersebut untuk memberikan kuliah umum di hadapan sekitar 600 orang mahasiswa dari berbagai jurusan dan angkatan. Tampak hadir antara lain tokoh-tokoh Yayasan dan pimpinan Universitas PGRI NTT. Acara yang berlangsung di Auditorium Phoenix, Kupang ini diberi judul 'Merekonstruksi Cara Berhukum Entitas Akademika'.
Shidarta yang juga menjadi Ketua Asosiasi Filsafat Hukum Indonesia (AFHI) ini menegaskan bahwa sebaik apapun misi suatu universitas dirumuskan, ia tetap perlu mengacu pada apa yang pernah disampaikan oleh Ortega y Gasset dalam kuliahnya berjudul Mission of University, yakni bahwa universitas sebagai: (1) transmissio of culture, (2) teaching of the learned professions, dan (3) scientific research and training of new scientist. Oleh sebab itu, pragmatisme yang menggerogoti dunia pendidikan harus makin diwaspadai.
Sehari sebelumnya Shidarta memberikan kuliah umum di Universitas Nusa Cendana Kupang dengan tema berbeda di hadapan para dosen dan mahasiswa Pascasarjana Ilmu Hukum. Kehadiran narasumber di Kupang dalam rangka memimpin tim peneliti Komisi Yudisial Republik Indonesia di provinsi tersebut. Kunjungan ke beberapa universitas di Kupang ini juga dalam rangka membangun komunikasi antara Komisi Yudisial dan jejaring akademis di kota tersebut. (***)
---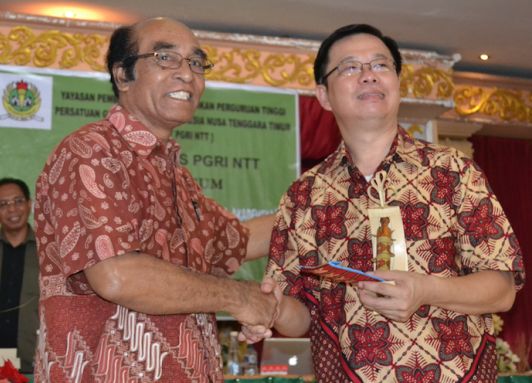 ---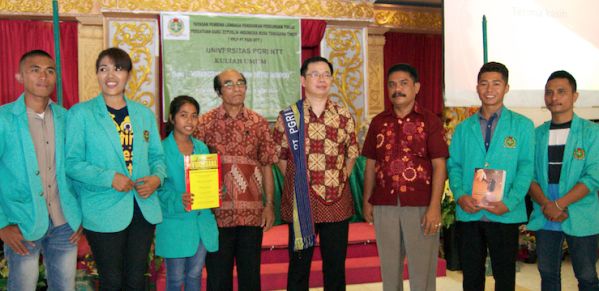 ---