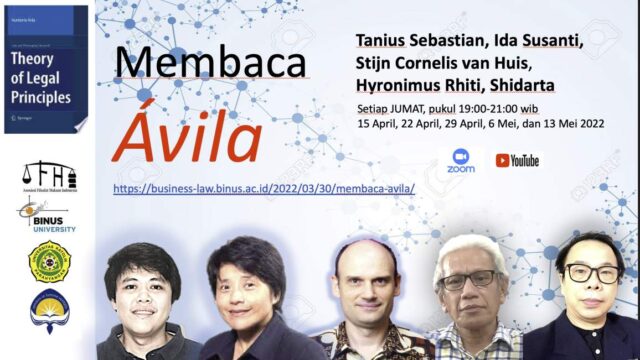 ---
Jurusan Hukum Bisnis BINUS berkolaborasi dengan Fakultas Hukum Universitas Katolik Parahyangan, Program Magister Hukum Universitas Atma Jaya Yogyakarta, dan Asosiasi Filsafat Hukum Indonesia (AFHI) kembali menggelar acara berbagi bacaan. Kali ini, buku yang dipilih adalah karya Humberto Ávila, berjudul Theory of Legal Principles (Dordrecht: Springer, 2007).
Para pembaca yang bersedia membagi hasil bacaan mereka adalah Shidarta, Ida Susanti, Stijn Cornelis van Huis, Hyronimus Rhiti, dan Tanius Sebastian, dengan rincian jadwal sebagai berikut:
| | | |
| --- | --- | --- |
| Pukul 19:00-21:00 WIB, TANGGAL-TANGGAL | MATERI BAHASAN | PEMBACA |
| 15 April 2022 | Bab 1 (First Considerations) & Kaitan buku ini dengan karya J.J.H. Bruggink | Shidarta |
| 22 April 2022 | Bab 2 poin 2.1, 2.2, dan 2.3 | Ida Susanti |
| 29 April 2022 | Bab 2 poin 2.4 | Stijn Cornelis van Huis |
| 6 Mei 2022 | Bab 3 poin 3.1, 3.2. dan 3.3 | Hyronimus Rhiti |
| 13 Mei 2022 | Bab 3 poin 3.4, 3.5, 3.6 dan Bab 4 | Tanius Sebastian |
DAFTAR ISI BUKU:
---
Acara ini dapat diikuti oleh umum (TANPA HARUS REGISTRASI TERLEBIH DULU)  dengan cara mengklik tautan zoom  berikut (link yang sama berlaku untuk seluruh sesi):
https://binus.zoom.us/j/95234597972?pwd=T3JSQmhadTVReHh1bnBCNXJwK2Jsdz09
---
Bagi peminat yang ingin mengikuti sesi Membaca Avila yang sudah berlangsung sebelumnya, dapat mengunjungi kanal Youtube di bawah ini:
---
THE AUTHOR:
HUMBERTO ÁVILA is a specialist in Corporate Finance from the School of Economic Sciences of the Federal University at Rio Grande do Sul (UFRGS), and a Master in Law from the Law School of UFRGS. His thesis "Provisional Measure in the 1988 Constitution" was published by Editora Sérgio Fabris in 1997. With a CNPq-granted scholarship, he went to the University of Munich, Germany in 1996, where he obtained a Certificate of Studies in Methodology of the Science of Law under the instruction of Claus-Wilhelm Canaris, and the degree of Doctor in Law under the instruction of Klaus Vogel. His summa cum laude doctorate dissertation was published in 2002 by Baden-Baden's Nomos, under the title "Materiell verfassungsrechtliche Beschränkungen der Besteuerungs- gewalt in der brasilianischen Verfassung und im deutschen Grundgesetz" (Substantive constitutional limitations to the power to tax in the Brazilian Constitution and German Fundamental Law). Besides practicing law and writing legal opinions in Porto Alegre, the author is also a Professor of Tax, Finance and Economic Law at the School of Law of UFRGS, where he was admitted through a public contest in which he qualified with the first place. He is a Professor of the LL.M and Ph.D. programs at UFRGS, where he is also a Member of the Graduate Program Coordinating Committee and the Coordinator of the Tax Law Specialization Program. The author is the President and a Founding Member of the International Institute of Public Law Studies (IIEDE) and a counselor in the Consulting Board of the Brazilian Society of Public Law (SBDP). He is also a member of the Brazilian Institute of Tax Law (IBDT), the Brazilian Association of Finance Law (ABDF), the International Fiscal Association (IFA), the Lawyer Institute of Rio Grande do Sul (IARGS), the Institute of Tax Studies (IET/RS), the Luso-German Association of Jurisprudence and the Brazilian- German Association of Jurisprudence.