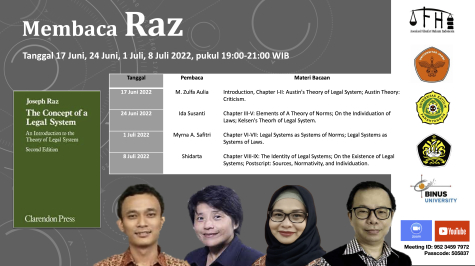 Buku karya Joseph Raz berjudul "The Concept of A Legal System" yang terbit pertama kali tahun 1970 adalah salah satu buku menarik karena mengangkat berbagai teori mendasar tentang hukum yang kerap dijadikan rujukan. Buku ini ditulis Raz dengan serius karena merupakan disertasi doktornya di Universitas Oxford. Filsuf hukum dari Universitas Columbia (AS) yang baru saja wafat tanggal 2 Mei 2022 lalu (dalam usia 83 tahun) tersebut membuat kritik tajam dan menarik terhadap teori-teori yang telah mapan menghuni jagad pemikiran hukum, termasuk di Indonesia, dengan menempatkan teori-teori itu di dalam diskursus konseptual sistem hukum. Empat orang pembaca bakal berkontribusi membagikan hasil bacaan mereka dan bermaksud mendiskusikannya dengan para peminat kajian metakaidah hukum.
Tanggal
Pembaca
Materi Bacaan

17 Juni 2022
M. Zulfa Aulia (Universitas Jambi)
Introduction, Chapter I-II: Austin's Theory of Legal System; Austin Theory: Criticism.

24 Juni 2022
Ida Susanti

(Universitas Katolik Parahyangan)

Chapter III-V: Elements of A Theory of Norms; On the Individuation of Laws; Kelsen's Theory of Legal System.

1 Juli 2022
Myrna A. Safitri (Universitas Pancasila)
Chapter VI-VII: Legal Systems as Systems of Norms; Legal Systems as Systems of Laws.

8 Juli 2022
Shidarta (Universitas Bina Nusantara)
Chapter VIII-IX: The Identity of Legal Systems; On the Existence of Legal Systems; Postscript: Sources, Normativity, and Individuation.
Acara yang berlangsung setiap hari JUMAT malam, pukul 19:00-21:00 (tanggal 17 Juni s.d. 8 Juli 2022) ini dapat diikuti secara gratis dan tanpa harus melakukan registrasi terlebih dulu. Untuk itu, silakan mengakses tautan zoom berikut:
Meeting ID: 952 3459 7972. Passcode: 505837
REKAMAN YANG SUDAH DIUNGGAH di Kanal Youtube:
---
---