Nirmala Many Participated in a Workshop Organized by Utrecht University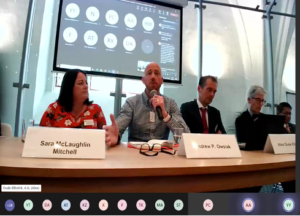 ---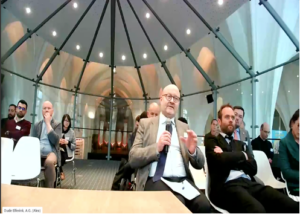 ---
The Netherlands Institute for the Law of the Sea (NILOS) and the Utrecht University Centre for Water, Oceans and Sustainability Law (UCWOSL) of Utrecht University organized a workshop titled The United Nations Convention on the Law of the Sea at Forty: The Contribution of the Judiciary and Judicial  Jurisdiction.It was held for 2 full days on 5 and 6 May 2022 at Museum Speelklok Steenweg 6 3511 JP Utrecht, the Netherlands as well as online through Microsoft Teams.
One of Faculty Members of Business Law BINUS University, Ms. Nirmala Many attended the workshop virtually. The workshop engaged several prominent practitioners and researchers/academicians in field of law of the sea, such as Prof. Alex Oude Elferink, the Director of NILOS and UCWOSL of Utrecht University, the former President of International Tribunal for the Law of the Sea (ITLOS) Prof. Rüdiger Wolfrum (Max Planck Institute for Comparative Public Law and International Law) and the Vice President of ITLOS Judge Tomas Heidar among others. The Grotius Centre for International Legal Studies; University of Leiden; School of Law, University of Glasgow); School of Law, University of Edinburgh; University of New South Wales; Department of International Relations, London School of Economics; Department of Political Science, College of Liberal Arts and Sciences, University of Iowa; Department of International Affairs, University of Georgia; Embassy of Norway to the European Union; Philippine Embassy, The Hague; Angers University; Mission of the People's Republic of China to the European Union; Permanent Court of Arbitration; Faculty of Law, Victoria University of Wellington;as well as Faculty of Law, Université de Genève. There were total 15 Speakers for 5 Panels.
According to Article 287 of UNCLOS, a State shall be free to choose the means for the settlement of disputes through the International Tribunal for the Law of the Sea established in accordance with Annex VI, the International Court of Justice, an arbitral tribunal constituted in accordance with Annex VII and a special arbitral constituted in accordance with Annex VIII.
The discussion started from the early PCA Arbitrations under the Law of the Sea back in 1905 of Muscat Dhows to the Carthage Incident in 1913, of which showed diversity of the cases, from flagging of vessels to maritime delimitation, fisheries, Port of State obligation to vessel seizure. The workshop highlighted that there has been increased judicialization in the recent years, with 40% of cases concerned with detention of vessels, 25% with maritime boundary delimitation and 35% others.