NIRMALA MANY PARTICIPATES IN INTERNATIONAL WORKSHOP ON PROTECTION OF THE DEEP SEABED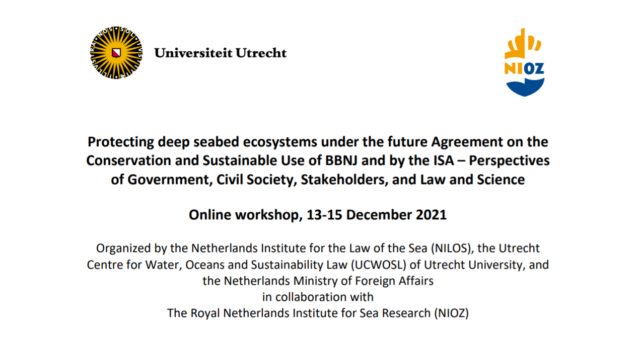 On 13-15 December, Nirmala Many, lecturer of Business Law BINUS participated in the online international workshop 'Protecting deep seabed ecosystems under the future Agreement on the Conservation and Sustainable Use of BBNJ and by the ISA – Perspectives of Government, Civil Society, Stakeholders, and Law and Science'. The workshop was organized by the Netherlands Institute for the Law of the Sea (NILOS), the Utrecht Centre for Water, Oceans and Sustainability Law (UCWOSL) of Utrecht University, and the Netherlands Ministry of Foreign Affairs, in collaboration with The Royal Netherlands Institute for Sea Research (NIOZ). The workshop is linked to the Universiteit Utrecht -NIOZ project "Protecting deep seabed hydrothermal vent fields through area-based management tools".
The deep seabed, which concerns areas beyond national jurisdiction (BBNJ) is recognized as "the common heritage of humankind". According to the UN Convention on the Law of the Sea, the deep seabed falls under the mandate of the International Seabed Authority. A total of167 Member States, and the European Union, have mandated the ISA to organize, regulate and control all mineral-related activities in the international seabed area for the benefit of mankind as a whole.
Today there are ongoing UN negotiations that seek to expand the Convention on the Law of the Sea (UNCLOS) to include a new legally binding instrument on the conservation and sustainable use of marine life in areas beyond national jurisdiction (BBNJ). Yet, at the same time deep sea mining in the deep seabed is imminent. The workshop discussed the current and future mandate of ISA and the future environmental regulatory framework pertaining to the protection of the deep seabed under international law […].