DUA KULIAH PROF. STEFAN KOOS PADA MATA KULIAH KAPITA SELEKTA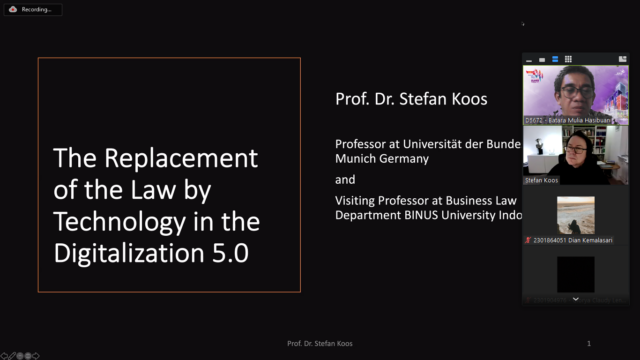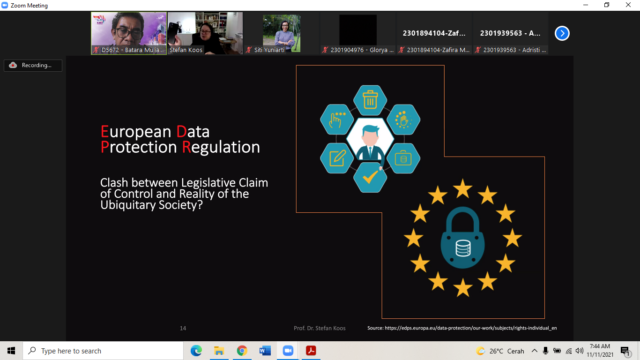 Prof. Dr. Stefan Koos dari Universitas Bundeswehr Jerman yang rutin terlibat dalam berbagai program di Jurusan Hukum Bisnis (Business Law) BINUS (sebagai visiting professor), pada tanggal 11 November 2021 dan tanggal 15 November 2021memberikan kuliah untuk dua kelas berbeda yang diikuti mahasiswa mata kuliah Kapita Selekta. Mata kuliah ini diampu oleh dosen Batara Mulia Hasibuan, S.H., M.H. Semula beliau berencana untuk hadir secara fisik di Jakarta dan telah bersiap untuk berangkat, namun terkendala dengan kebijakan baru harus menjalani karantina cukup lama begitu tiba di Indonesia.
Pada kuliah untuk kelas pertama, Prof. Koos membawakan materi tentang the Replacement of the Law by Technology in the Digitalization 5.0.  Pada kuliah ini guru besar yang meminati kajian etika terkait kecerdasan buatan ini membahas tentang kecenderungan makin besarnya peran teknologi untuk menggantikan hukum dalam mengatur masyarakat. Isu yang sama pernah beliau lontarkan ketika menjadi pembicara mewakili BINUS dalam seminar internasional yang diadakan oleh LL DIKTI pada Agustus 2021.
Selanjutnya pada kuliah kedua, Prof. Koos menjelaskan tentang Core Elements of Social Justice from the Perspective of the European Unfair Competition Law.  Sebagai ahli yang juga menekuni hukum persaingan usaha, Prof. Koos kali ini memaparkan aspek keadilan sosial yang digagas dalam hukum persaingan usaha Uni Eropa. (***)