PRESENTASI DOSEN DAN MAHASISWA HUKUM BINUS DI INTERNATIONAL POLICY WORKSHOP WTO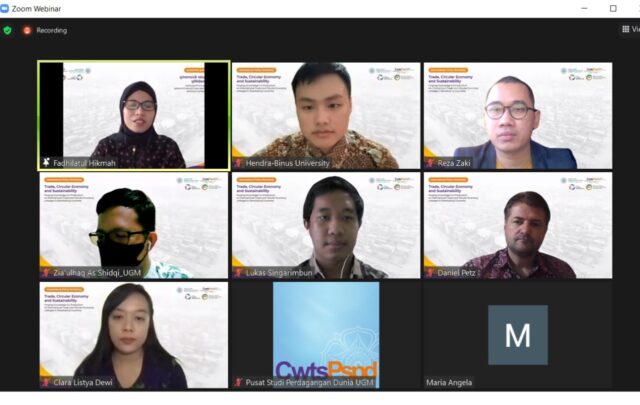 ---
Pada Rabu, 22 September 2021, dosen dan mahasiswa Jurusan Hukum Bisnis (Business Law) BINUS mempresentasikan hasil paper mereka di International Policy Workshop Trade, Circular Economy and Sustainability Forging Knowledge Co-Production on International Trade and Circular Economy Linkages in Developing Countries pada tahun 2021 yang diadakan oleh World Trade Organization (WTO) dan Pusat Studi Perdagangan Dunia Universitas Gajah Mada secara virtual. Mereka adalah Muhammad Reza Syariffudin Zaki (dosen) dan Hendra (mahasiswa). Paper yang dibawakan oleh dosen dan mahasiswa hukum BINUS di dalam workshop ini berjudul "ASPEK HUKUM CIRCULAR ECONOMY DALAM PENGEMBANGAN INVESTASI BLUE ECONOMY".
Acara ini dihadiri oleh Menteri Sekretaris Negara RI Prof Dr. Pratikno, Menteri Perdagangan RI Muhammad Luthfi, WTO Deputy Director-General Ambassador Xiangchen Zhang, Ambassador Permanent Representative of the United Kingdom of the Netherlands to the WTO H.E.Mrs. Monique Van Daalen, WTO Trade, and Environment Division Dr. Rainer Lanz, Copenhagen Business School Maria Josefina Figueroa, Rektor Universitas Gadjah Mada Prof. Ir. Panut Mulyono.
Acara ini membahas bagaimana industrialisasi global telah menyebabkan pertumbuhan industri manufaktur dan ekspansi yang cepat dari perusahaan multinasional.Walaupun,industrialisasi telah mengangkat pertumbuhan ekonomi, tetapi terjadi masalah lingkungan yang serius,masalah seperti timbulan sampah dan menipisnya sumber daya alam yang terbatas. Dengan latar belakang inilah konsep Circular Economy (CE) diusulkan. Di dalam kontras dengan model ekonomi 'linier' yang mengeksploitasi sumber daya dari alam,memproduksinya menjadi komoditas, dan membuang limbahnya, CE bertujuan untuk memisahkan pertumbuhan ekonomi dari eksploitasi sumber daya alam yang terbatas dengan adanya CEhal ini dapat dicapai dengan menawarkan desain ekonomi regeneratif di mana sumber daya digunakan kembali,diproduksi ulang, dan didaur ulang.
Paper dari dosen dan mahasiswa BINUS membahas bagaimana mengembangkan circular economy dalam investasi blue economy untuk mengatasi permasalahan yang ada dan bagaimana mengembangkan ekonomi yang berkelanjutan. Dari aspek hukum ditemukan ada 8 (delapan) regulasi termasuk Undang-undang No. 11 Tahun 2020 tentang Cipta Kerja yang mengatur mengenai implementasi circular economy pada blue economy investment termasuk sanksi pidana dan denda yang dapat dijatuhkan kepada perusahaan yang tidak memenuhi circular economy dalam bisnis mereka. Namun tentu saja implementasi dari regulasi ini masih belum seutuhnya dilaksanakan karena masih lemahnya penegakan hukum pada sektor maritim di Indonesia. (***)