PRESENTASI DOSEN DAN MAHASISWA BINUS DALAN ICOLEG 2021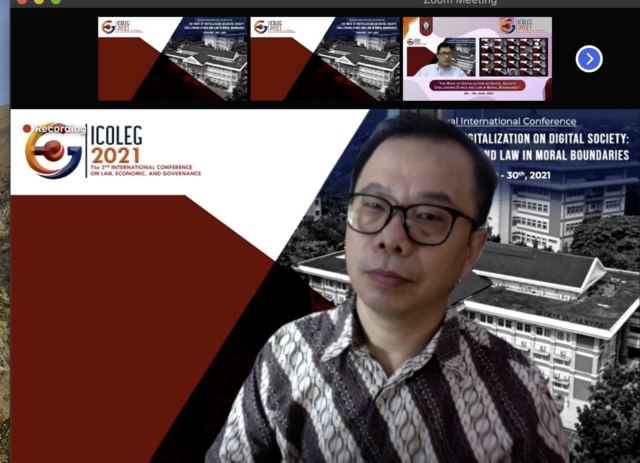 ---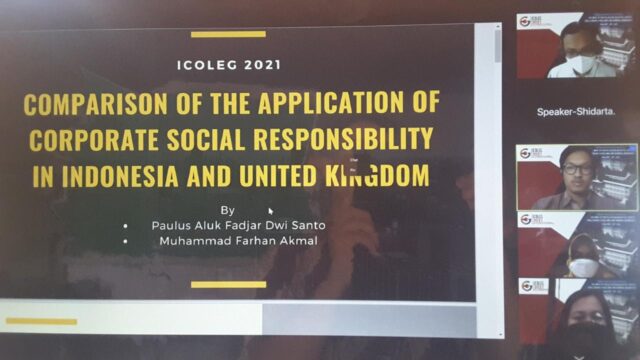 ---
Pada tanggal 29 dan 30 Juni 2021, Universitas Diponegoro Semarang menyelenggarakan the 2nd International Conference on Law, Economics, and Governance (ICOLEG).  Salah satu pembicara kunci (keynote speaker) yang diundang untuk memberikan paparan pada hari pertama adalah Shidarta, dosen Jurusan Hukum Bisnis BINUS. Ia diminta untuk menjadi narasumber atas topik berjudul "Ethics and Law in a Digital Society: A Study of Legal Philosophy." Pada sesi pleno tersebut juga tampil dua pembicara yang lain, yaitu Prof. F.X. Joko Priyono dan Dr. Herlambang Perdana Wiratraman.
Dalam paparannya, Shidarta menekankan bahwa dalam masyarakat digital 4.0 yang mengarah ke masyarakat digital 5.0, peran etik akan lebih penting seiring dengan melemahnya kedaulatan negara, khususnya pada unsur kelembagaannya. Ia memberi contoh bagaimana Lembaga Sensor Film (LSF) yang tidak berdaya menghadapi serbuan platform seperti Netflix atau HBO Max. Ia lalu menunjuk pada teori Lessig yang memperkenalkan empat elemen, yang salah satunya adalah arsitektur teknologi. Shidarta menaruh harapan pada elemen ini untuk lebih didayagunakan dalam rangka melindungi kepentingan publik. "Because, if we don't follow the design or technology architecture, then the technology can't work as it should. For example, if you don't fasten your seat belt, you can't start your car's engine," ujarnya. Intinya, ia menyarakan agar sebelum suatu teknologi diproduksi dan diluncurkan ke publik, desain ini perlu dicermati benar agar pemanfaatan teknologi itu tidak menimbulkan kerugian bagi masyarakat. Desain ini sekaligus dapat membuat daya kerja hukum positif menjadi lebih efesien dan efektif terkait pemanfaatan teknologi di dalam kehidupan masyarakat.
Beliau memprediksi bahwa akan ada kecenderungan dalam waktu dekat ini, bahwa utilitarianisme akan banyak dijadikan dasar pijakan. Hal ini bakal merugikan kelompok minoritas dan termarginal, sehingga ia mengajak para peserta dapat memakai pisau analisis seperti yang ditawarkan oleh John Rawls dengan tiga prinsipnya.
Pada sesi panel berikutnya mahasiswa Jurusan Hukum Bisnis BINUS Muhammad Farhan Akmal tampil membawakan makalahnya yang berjudul Comparison of the Application of CSR in Indonesia and the UK." Makalah ini ditulisnya bersama dengan Paulus Aluk Fajar Dwi Santo, dosen Jurusan Hukum Bisnis BINUS. (***)