DISKUSI PEMIKIRAN BERNARD ARIEF SIDHARTA
Pada tanggal 5 Maret 2021 telah diadakan diskusi seri pemikiran hukum Indonesia menampilkan tokoh Prof. Dr. Bernard Arief Sidharta, seorang guru besar filsafat hukum dari Universitas Katolik Parahyangan. Salah satu dosen Jurusan Hukum Bisnis (Business Law) BINUS Shidarta, merupakan salah satu pembicara kunci dalam acara ini. Seri ini digagas oleh Asosiasi Filsafat Hukum Indonesia (AFHI) bekerja sama dengan Fakultas Hukum Universitas Pasundan, Bandung.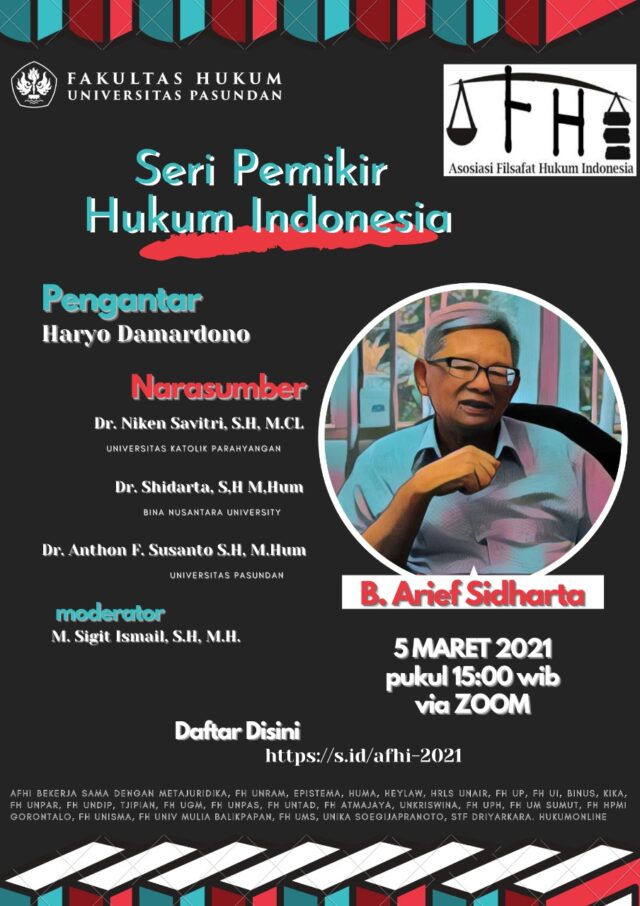 Dalam seri tersebut, tampil pembicara lain yakni Dr. Niken Savitri dan Dr. Anthon F. Susanto. Menurut Shidarta, yang tampil sebagai pembicara kedua, pemikiran Bernard Arief Sidharta paling tidak mencakup tiga area yakni dalam pengembanan (dari kata dasar "emban") hukum teoretis, penalaran hukum, dan pengembangan (dari kata dasar "kembang") ilmu hukum nasional Indonesia.
Bernard Arief Sidharta yang merupakan promotor disertasi Shidarta tatkala menempuh pendidikan doktor di Universitas Katolik Parahyangan, adalah sosok ahli hukum Indonesia yang mempopulerkan pohon displin hukum yang disebutnya sebagai "state of the art". Pemilahan disiplin hukum tersebut mempengaruhi pendekatan dalam pendidikan tinggi hukum. Demikian juga dengan penalaran hukum, Arief juga memiliki pengaruh penting melalui serangkaian publikasinya, baik berupa karya terjemahan maupun tulisannya sendiri.  Arief memiliki obsesi untuk membangun ilmu hukum nasional Indonesia sebagaimana dimunculkan dalam disertasi dan karya terakhir sebelum beliau meninggal dunia pada akhir tahun 2015.
Liputan lengkap dari diskusi tersebut dapat disimak pada tautan berikut: https://youtu.be/D8SH9RujQIk