CALL FOR PAPERS: NATIONAL CONFERENCE "HUKUM BISNIS DI ERA SOCIETY 5.0"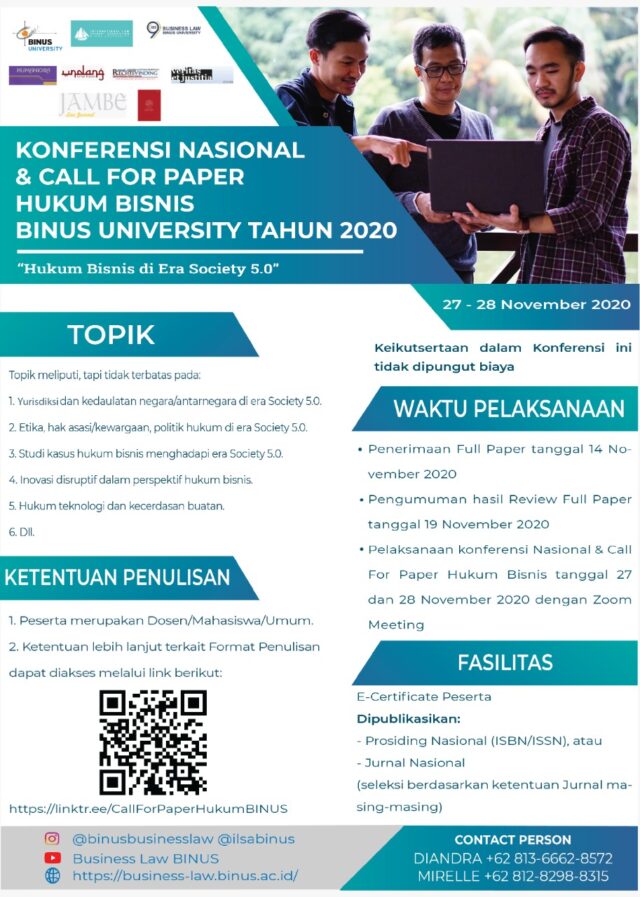 Come and join our National Law Conference on 27th – 28th November 2020!
THE DEPARTMENT OF BUSINESS LAW BINUS UNIVERSITY AND ILSA BINUS PROUDLY PRESENT:
THE 2020 NATIONAL CONFERENCE  : "HUKUM BISNIS DI ERA SOCIETY 5.0"
Society 5.0  denotes the integration of society with the virtual world which will significantly change our way of life. Society 5.0 has been defined as:  "A human-centered society that balances economic advancement with the resolution of social problems by a system that highly integrates cyberspace and physical space." The basic idea is that in the near future social problems will be more and more solved with the support of information technology, artificial intelligence, and robotics. Such innovative developments in the political, economic and social realm pose challenges to the legal system. As is reflected in the adagium "het recht hinkt achter de feiten aan" (Law limps behind the facts)  law can be slow to react to societal changes. On the other hand, law also has a significant amount of flexibility to accommodate potentially disruptive economic transformations. A century ago, Karl Renner already demonstrated this. He showed how during the industrial revolution new concepts of property developed, while the nineteenth century laws on property themselves remained the same. The meaning of the legal concept of "property", however, changed in legal practice, as it was applied to such new forms of property by lawyers and judges. This conference will delve into the concept of Society 5.0 and the potential  consequences this concept has for business law and other fields of law in Indonesia and elsewhere.
Topics:
Jurisdiction and national sovereignty in the Society 5.0 era
Ethics, basic rights, and citizenship in the Society 5.0 era
Case studies relevant to the Society 5.0 era
Disruptive innovations and business law
Law and Artificial Intelligence
Other relevant topics
Who can submit?
This conference is open for Lecturers, Students and the General Public. Participants will have the opportunity to obtain:
1. An E-certificate
2. Accepted Full Paper will be published in national proceedings
3. Selected Full Papers  will be published in a national journal.
Important dates:
Deadline Submission Full Paper: 14 November 2020

Announcement accepted papers: 19 November 2020
Papers can be submitted in Bahasa Indonesia or English. Please check the guidelines by clicking the following link:
https://linktr.ee/CallForPaperHukumBINUS
For more information feel free to contact:
Diandra: +62 813 6662 8572
Mirelle  : +62 812 8298 8315
Thank you!