DISKUSI ILSA BINUS UNIVERSITY DENGAN CIMC UGM
Disela-sela persiapan International Law Students Association Universitas Bina Nusantara  (ILSA BINUS) untuk mengikuti Lomba International mooting, pada Sabtu, 11 Juli 2020, ILSA mengadakan diskusi perdana dengan mengundang pembicara dari Community of International Moot Court Universitas Gadjah Mada (CIMC UGM) yang membahas tentang susunan organisasi dan seputar perlombaan international mooting. Diskusi dibuka perkenalan organisasi, baik dari ILSA BINUS maupun CIMC UGM. Diskusi kali ini bertujuan untuk mengetahui bekal teknis yang dapat digunakan oleh ILSA Binus University untuk mengikuti perlombaan peradilan semu seperti Jessup MMC, IHL, HHI, ICC dan sebagainya. CIMC UGM berbagi pengalaman sebagai bekal ILSA Binus untuk melakukan rekrutmen yang akan dibuka untuk mahasiswa Business Law mendatang. Proses rekrutmen antara lain mempertimbangkan standar kualifikasi yang akan di tentukan lebih lanjut oleh ILSA BINUS agar ILSA mampu memperoleh bibit-bibit unggul.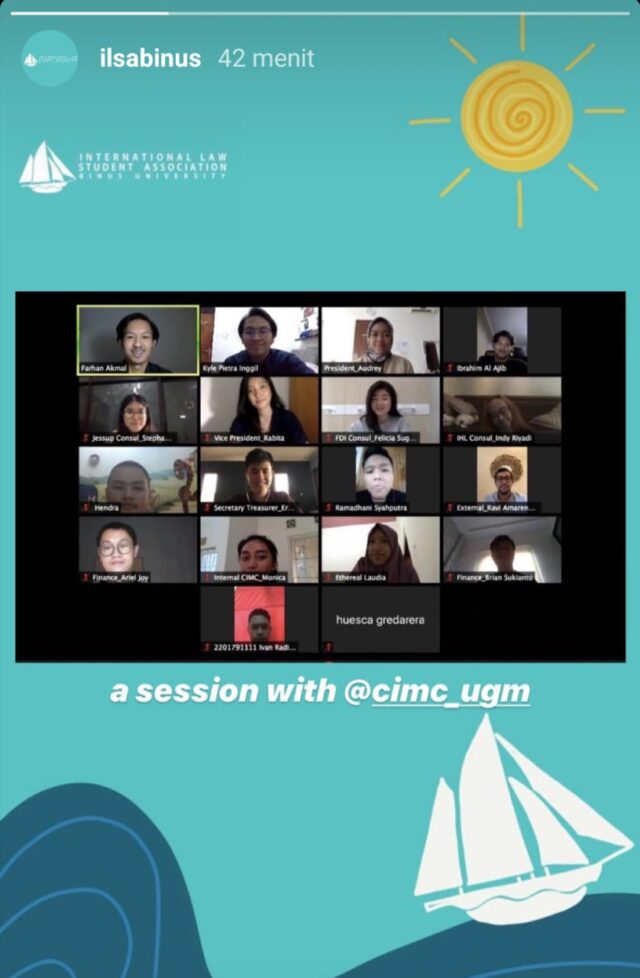 Pada topik mengenai pengenalan struktur organisasi, CIMC UGM berpendapat bahwa salah satu posisi yang sangat penting adalah posisi manager karena antara lain berfungsi untuk mengelola kebutuhan finansial dalam mengikuti lomba-lomba international mooting. Sesi selanjutnya adalah sesi tanya jawab. Sesi ini di buka dengan pertanyaan yang diajukan oleh ILSA BINUS kepada CIMC UGM. Pada sesi ini dijelaskan beberapa peraturan dan mekanisme perlombaan yang sesuai dengan hukum acara International Criminal Court (ICC) di Belanda. Dalam lomba international mooting tersebut peserta harus secara bergantian memainkan peran sebagai Jaksa (Prosecutor) atau Penasehat Hukum (Defendant).
Dalam format the Philip C. Jessup International Law Moot Court Competition (Jessup), mahasiswa menjadi kuasa hukum melawan kuasa hukum lainnya di dalam sebuah perkara fiktif yang diajukan kepada the International court of Justice (ICJ) . CIMC UGM memberikan kiat-kiat sebelum mengikuti lomba International Mooting, misalnya tata cara pendaftaran, bagaimana mencari pelatih untuk membimbing peserta yang akan mengikuti lomba, proses karantina peserta, dan bagaimana mendapatkan sponsor, pengelolaan keuangan yang meliputi akomodasi dan transportasi serta memberikan tips bagaimana mengatasi berbagai kendala saat ingin mengikuti perlombaan (***).