Dosen Binus terlibat dalam kegiatan state visit Kerajaan Belanda yang bertempat di UGM
Pada hari Rabu, tanggal 11 Maret 2020, Dr. Stijn van Huis, dosen Business Law menghadiri kegiatan state visit Kerajaan Belanda. Inti acara tersebut terdiri dari dua agenda, yaitu seminar mengenai kerja sama di bidang hukum antara Indonesia dan Belanda serta audiensi perwakilan civitas akademika Indonesia dengan rombongan dari Belanda. Acara seminar hukum bertempat di fakultas hukum berlangsung di pagi hari dan bertempat di fakultas hukum, sementara acara audiensi berlangsung siang hari dan bertempat di Balai Senat UGM.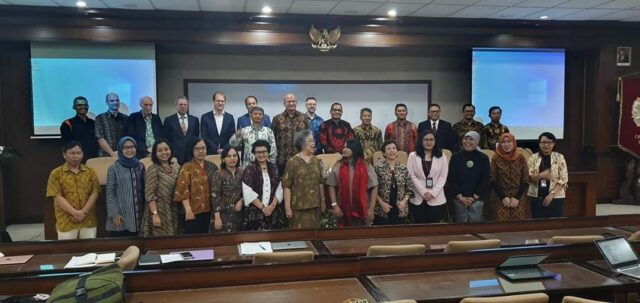 Pada acara seminar hukum, dipaparkan empat proyek kerja sama di bidang hukum antara Indonesia dan Belanda. Keempat proyek tersebut adalah:
SLEEI (Strengthening Legal Education in Eastern Indonesia) yang digagas oleh Universitas Leiden dan Koninklijk Instituut voor de Tropen Amsterdam selaku partner dari Belanda dan Universitas Gajah Mada, STHI Jentera, Universitas Mataram, Universitas Kristen Wira Wacana, Universitas Kristen Artha Wacana dan Universitas Pattimura selaku partner Indonesia.
LEAP (Legal Education, Ethics and Professionalism) yang digagas oleh Universitas Airlangga dan Universitas Maastricht
Cyber-Security Education in Indonesia through a Multidisciplinary Approach of Study Programs and Innovative Technologies yang diprakarsai oleh Universitas Indonesia dan Vrije Universiteit
Presentation of the Peer 2 Peer 4 Justice Indonesia-Netherlands Legal Network yang dikoordinasi oleh Centre for International Legal Cooperation (CILC) dan Lembaga Kajian dan Advokasi untuk Independensi Peradilan (LeIP).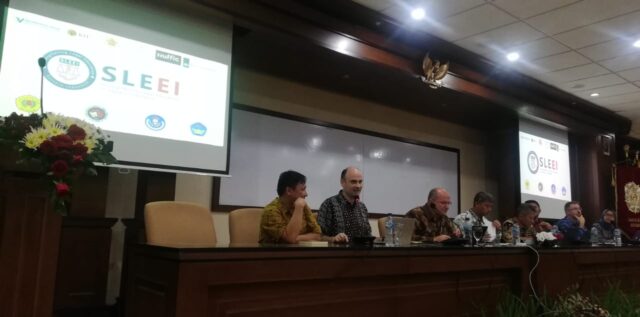 Dalam acara ini, Dr. Stijn van Huis bersama dengan Dr. Rikardo Simarmata dari fakultas hukum UGM memberikan paparan mengenai pelatihan ToT yang telah dilakukan di Ambon.
Setelah sesi pemaparan keempat proyek tersebut, Professor Maurice Adams dari Universitas Tilburg memberikan key-note speech sebagai penutup kegiatan seminar hukum. Dalam presentasinya, Prof. Adams menegaskan bagaimana fakultas hukum di Indonesia dan Belanda memiliki tendensi yang sama untuk sepebuhnya berfokus pada hukum doktriner. Prof. Adams menegaskan bahwa dalam masa yang penuh tantangan global seperti saat ini, sebuah fakultas hukum seharusnya tidak hanya melakukan analisa hukum dari peraturan yang ada, namun juga didorong untuk turut berkontribusi memberikan solusi atas masalah hukum dan masalah sosial terkini. "Legal scholars should not only look at existing laws – that is looking backward, but also look at future law – be forward looking!"
Pada siang hari acara dilanjutkan dengan audiensi bersama rombongan kerajaan Belanda. Tampak hadir dalam rombongan kerajaan Belanda adalah Raja Willem Alexander, Ratu Maxima, Menteri Luar Negeri Stephanus Abraham Blok, Duta Besar Kerajaan Belanda untuk Indonesia Lambert Grijns dan rombongan pengusaha dari Belanda. Menteri Luar Negeri Retno Marsudi dan Menteri PUPR Basuki Hadi Muljono turut hadir mendampingi rombongan Kerajaan Belanda […].