SEMINAR DUA PULUH LIMA TAHUN UNCLOS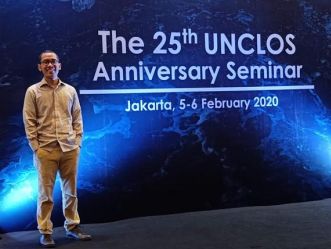 ---
Dosen Juruan Hukum Bisnis (Business Law) BINUS Dr. Reza Zaki pada tanggal 5-6 Februari 2020 lalu berkesempatan menghadiri peringatan 25th UNCLOS Anniversary. Acara tersebut ditandai dengan penyelenggaraan seminar di Hotel Aryaduta, Jakarta, yang diadakan oleh Center for Sustainable Ocean Policy Law Universitas Indonesia.
Para narasumber yang hadir pada kegiatan ini antara lain Prof. Hasjim Djalal (Indonesia MOFA
ret), Prof Kentaro Nishimoto (University of Tohoku), Prof Jay Batongbacal (University of
the Philippines), Prof David Letts (Australian National University), Prof. Hikmahanto Juwana
(Universitas Indonesia), Prof Nguyen Ba Chuong (Scientific Research Institute of Sea and Islands,
Vietnam), Prof Pete Pedrozo (Naval War College), Prof Seline T (NILOS, Universiteit Utrecht),
Dr. Iur Damos Dumoli (Indonesia MOFA), dan Dr. Arie Afriansyah (Universitas Indonesia).
Di dalam kegiatan ini dibahas juga mengenai sikap Pemerintah Indonesia mengenai kasus
sengketa Natuna Utara dengan Cina. Sengketa antara Indonesia dengan China di laut utara
Natuna tak akan pernah selesai. Pasalnya baik Indonesia maupun China sama-sama ngotot
enggan mengakui klaim masing-masing atas perairan utara Natuna. Indonesia mengklaim bahwa laut utara Natuna adalah Zona Ekonomi Eksklusif (ZEE) atas dasar Konvensi PBB tentang Hukum Laut tahun 1982 atau UNCLOS 1982. Sementara China mengakui bahwa pihaknya berhak atas sumber daya alam di Natuna berdasarkan sembilan garis putus-putus versi mereka.
Wilayah laut utara Natunan kerap jadi sengketa. Bukan hanya dengan China, sengketa menurut
Hikmahanto juga pernah terjadi dengan Vietnam. Bedanya saat itu Vietnam mengakui dasar
klaim Indonesia sehingga perundingan bisa digelar. Garis putus-putus yang diklaim China
diketahui juga bersinggungan dengan negara lain. Bahkan dengan dengan negara lain seperti
Filipina, Malaysia dan Vietnam, klaim China itu tumpang tindih dengan wilayah kedaulatan
negara-negara tersebut.
China mengklaim wilayah utara Natuna masuk dalam wilayah ekonomi mereka berdasarkan
sejarah. China bahkan mengirim nelayan untuk langsung mengambil ikan. Semestinya
pemerintah memberikan kemudahan kepada nelayan yang ingin mencari ikan di wilayah perairan
Natuna. Salah satunya dengan memfasilitasi nelayan untuk melaut di sana sehingga bisa
mendorong nelayan China untuk keluar dari ZEE itu. (***)