Dosen BINUS memberikan sociolegal training dalam kerjasama internasional Universitas Leiden-FHUI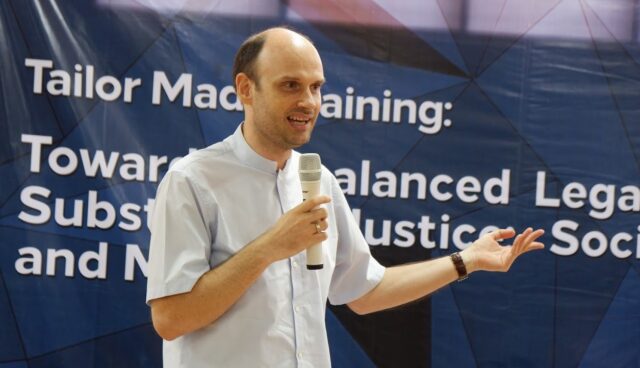 Dr. Stijn van Huis, dosen Departemen Business Law BINUS, memberikan pelatihan tentang socio-legal research methods dalam rangka Tailor Made Training "Towards a Balanced Legal Certainty and Substantive Justice in Indonesia: Socio-Legal Theory and Method, yang berlangsung pada tanggal 20-25 Agustus 2019 di Universitas Indonesia Depok. Pelatihan tersebut diikuti oleh 20 peserta dari Universitas se-Indonesia. Pelatihan tersebut adalah bagian kerja sama internasional antara Universiteit Leiden dan Universitas Indonesia yang melibatkan pelatih dan peserta dari berbagai universitas di Indonesia. Komposisi peserta pelatihan mengutamakan universitas dari bagian Timur Indonesia, yang menjadi salah satu alasan bagi Nuffic-NESO untuk memberikan dana kerja sama internasional yang disalurkan melalui StuNed.
Van Volenhoven Institute (VVI), Universitas Leiden, bertindak sebagai penyelenggara utama dari pelatihan tersebut. Prof. Adriaan Bedner, direktur VVI, ikut serta memberikan materi pelatihan bersama dengan Dr. Laurens Bakker dari Universiteit van Amsterdam; Prof. Sulistyowati Irianto, Dr. Lidwina Inge Nurtjahyo dan Dr. Theresia Dyah Wirastri dari FHUI; Dr. Rikardo Simarmata dari FH Universitas Gadjah Mada; Dr. Widodo Dwi Putra dari FH Universitas Mataram; Dr. Herlambang Pratama dari FH Universitas Airlangga; Dr. Stijn Cornelis van Huis dari departemen Business Law Universitas Bina Nusantara; Dian Rosita dari Lembaga Kajian dan Advokasi untuk Independensi Peradilan (LeIP), dan Greg Churchill, senior legal consultant di Indonesia.
Dalam tailor made training tersebut, Stijn memberikan pelatihan metode penelitian socio-legal mengenai hak anak yang berfokus pada perumusan pertanyaan penelitian socio-legal yang baik. Dengan menggunakan metode kerja kelompok peserta diminta untuk memilih subyek penelitian mengenai hak anak dan memformulasikan pertanyaan penelitian yang terkait dengan subyek yang dipilih. Hasil kerja kelompok kemudian dipresentasikan dan dikomentari oleh peserta lainnya.
Peserta dari program pelatihan ini juga mendapat kesempatan untuk berpartisipasi sebagai observer dalam konferensi internasional "Contemporary Socio-Legal Issues in Indonesia: "Towards Balanced Procedural and Substantive Justice" yang berlangsung di FHUI pada tanggal 23-24 Agustus 2019. Pembicara pada konferensi tersebut adalah Prof. Tim Lindsey dari Melbourne University; Prof. Simon Butt dari Sydney Law School; Prof. Yuzuru Shimada dari Nagoya University; dan Dr. Melissa Crouch dari University of New South Wales. Pada conference tersebut Stijn bersama Tirtawening Parekesit menjadi convener pada panel "Children's and Women's Rights" (***).