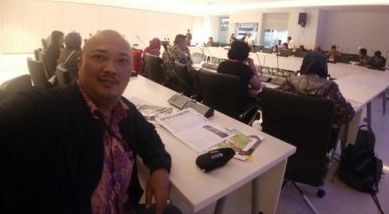 Dosen Jurusan Hukum Bisnis (Business Law) BINUS, Bambang Pratama berkesempatan menghadiri diskusi terbuka tentang perkembangan Internet global yang diselenggarakan oleh Internet Governance Forum Indonesia (ID-IGF) yang diselenggarakan pada hari Jumat, 19 Januari 2018. Acara berlangsung di Gedung Perpustakaan Nasional, Medan Merdeka Selatan, Jakarta.
Narasumber diskusi adalah Shita Laksmi (ID-IGF, dan tenaga ahli Dirjen Aptika) dan Bhredipta C. Socarana (K&K Advocate) memberikan sharing materi yang didapatkan mereka selama menghadiri forum IGF di Jenewa pada bulan Desember 2017 lalu.
Beberapa isu sentral yang dihadapi oleh berbagai negara yang dibahas antara lain:
Masalah etika dalam otomatisasi, yaitu etika pada teknologi Artificial Intelligence;
Digital gap antar negara yang mudah terhadap akses Internet dan yang sulit dalam mengakses Internet;
Kesepakatan negara-negara atas dunia siber (cyber treaty);
Hak asasi manusia dan perlindungan data pribadi dengan isu terhangatnya General Data Protection Uni Eropa (EU-GDPR) yang akan segera diberlakukan pada bulan Mei 2018;
Masalah pertanggungjawaban hukum Internet Intermediary (penyedia jasa Internet);
Masalah ekonomi terkait putusang pengadilan Uni Eropa (court of Justice of the European Union/CJEU) atas kasus Uber dan implikasi terhadap negara-negara lain;
community network, dan netneutrality;
Masalah sosial budaya seperti fake news yang sedang mewabah secara global.
Diskusi juga dihadiri oleh Ditjen Aptika Kominfo Samuel Abrijani Pangerapan yang menyatakan sangat mengapresiasi diskusi ID-IGF. Beliau juga mengatakan bahwa sebaiknya diskusi terkait Internet Governance Forum bisa rutin dilakukan oleh ID-IGF sehingga hasil pembahasan dari diskusi bisa diberikan ke pemerintah agar pemerintah mengetahui isu-isu aktual dan opsi penanganan yang terbaik.