DOSEN TAMU DARI KOZMINSKI UNIVERSITY UNTUK PROGRAM HUKUM BINUS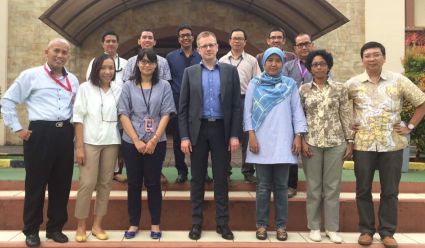 ---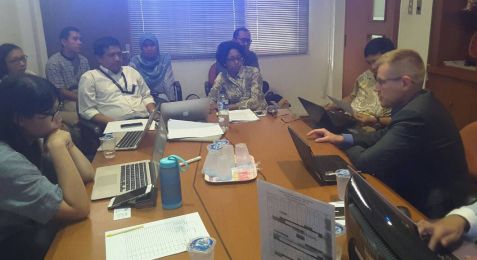 ---
Salah satu misi Jurusan Hukum Bisnis (Business Law) BINUS adalah untuk membawa program studi hukum di BiNUS menjadi lebih bernuansa global.  Untuk itu, Mateusz Woinski, Ph.D. dari Kozminski University, Polandia, mengadakan kunjungan ke jurusan ini selama satu minggu dalam posisi sebagai dosen tamu di bawah sponsor Erasmus Program.
Pada hari pertama, beliau diterima oleh International Office BINUS. Kemudian Mateusz diterima oleh Dr. Shidarta dan tim dari Jurusan Hukum Bisnis yang akan menjadi tuan rumah selama kehadirannya di BINUS. Beliau akan masuk pada sejumlah mata kuliah dan juga seminar tentang hukum siber, kebebasan berbicara, ujaran kebencian, dan otoritas Mahkamah Internasional.
Dalam diskusi yang berlangsung di Kampus Kijang pada tanggal 22 Mei 2017, Ketua Jurusan Hukum Bisnis, Shidarta, menyampaikan keunikan dari Program Studi Hukum di BINUS. Juga ditunjukkan betapa potensial dosen-dosen di jurusan ini dengan kapasitas masing-masing di bidang hukum bisnis, yang telah dikerucutkan menjadi hukum ITC  (international trade and commerce) dan hukum ICT (information and communication technology).
Sebagai kesimpulan, dalam jangka pendek ini Mateusz akan membangun program penelitian dan penulisan bersama dengan dosen-dosen di area hukum pidana bisnis, diketuai oleh Dr. Ahmad Sofian dan Vidya Prahassacitta.  Ada cukup banyak isu yang sama-sama berkembang di kedua negara, dan memiliki kemiripan dalam penegakan hukumnya. Mateusz dan para dosen BINUS berkomitmen untuk membangun kerja sama dan menindaklanjutinya, tidak sebatas pada kunjungan sebagai dosen tamu. (***)