DOSEN HUKUM BINUS SEBAGAI PEMBICARA DI TUNGHAI UNIVERSITY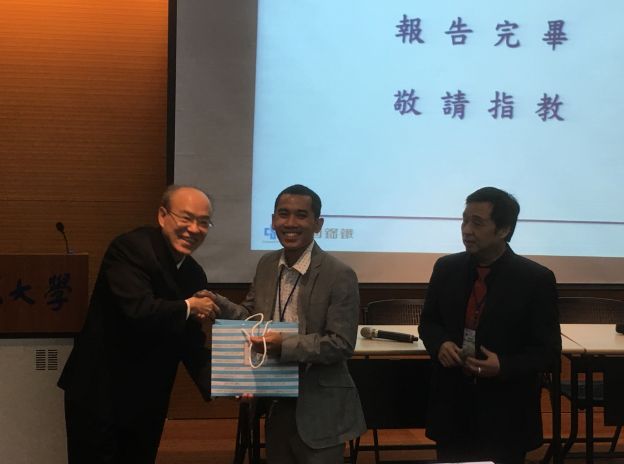 ---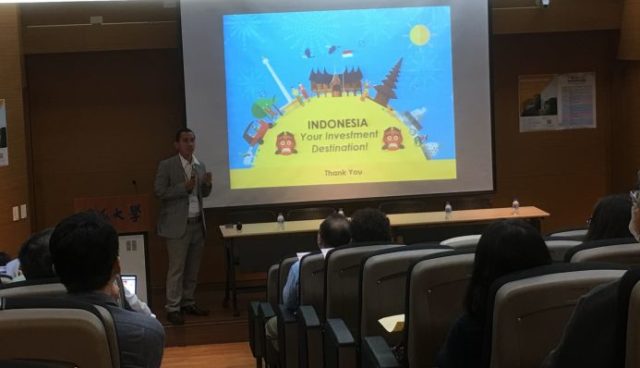 ---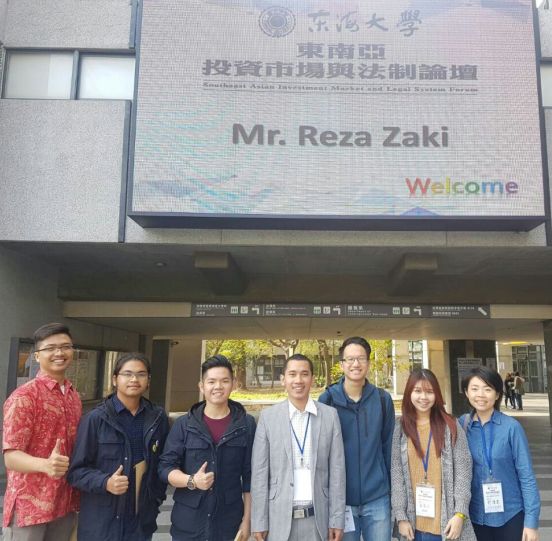 ---
Pada Selasa (17/1/2017), Fakultas Hukum (College of Law) Tunghai University, Taiwan menyelenggarakan sebuah simposium internasional berjudul "Southeast Asian Investment Market and Legal System Forum". Pembicara yang menghadiri simposium internasional ini antara lain Reza Zaki dari Jurusan Hukum Bisnis (Business Law) BINUS University, Indonesia, Hoang Ngoc Giao dari University of Danang, Vietnam, dan Nilubol Lertnuwat dari Thammasat University, Thailand.
Para peserta dalam simposium internasional terdiri dari para investor Taiwan, Kamar Dagang Taiwan dan Indonesia, mahasiswa MBA program dari berbagai kampus di Taiwan, dan mahasiswa  hukum dari BINUS yang tengah melaukan student exchange di Taiwan. Di dalam simposium internasional ini,
Reza Zaki membawakan topik "Indonesia, Your Investment Destination" yang menjadi topik menarik di dalam simposium tersebut karena dibawakan dengan begitu lugas serta dinamis oleh dosen muda Business Law BINUS yang baru berusia 27 Tahun. Ia memaparkan bahwa Indonesia memiliki potensi besar dari bonus demografi angkatan kerja 10-20 tahun mendatang, pasar populasi yang besar 250 juta penduduk serta terbesar keempat di dunia, kemudian didukung oleh meningkatnya kelas menengah ekonomi sebesar 32 juta penduduk. ASEAN sebenarnya sudah mengatur secara yuridis tentang iklim investasi dimulai dengan ASEAN Investment Area 1998 kemudian ASEAN Comprehensive Investment Agreement 2007. Kemudian Indonesia memiliki UU No 25 Tahun 2007 tentang Penanaman Modal Asing. Indonesia juga merupakan TOP 5 tujuan destinasi investasi di dunia. Indonesia saat ini juga memiliki Perpres No 44 Tahun 2016 Tentang Daftar Investasi yang terbuka dan tertutup. Daftar investasi terbaru yang sudah dibuka oleh Indonesia seperti Museum dan Cinema/Bioskop.
Indonesia masih memiliki catatan dalam pemberian insentif terutama pajak yang masih tertinggal dibandingkan Negara Vietnam yang kini sudah dikenal juga sebagai negara dengan upah buruh termurah di dunia. Produk pangan kita kalah signifikan dengan Thailand. Operasi pelabuhan kita masih menemui banyak kendala termasuk daya tampung dan pungutan liar. Oleh sebab itu kita berharap Indonesia mampu meningkatkan daya saing di dunia jika ingin menjadi tujuh besar ekonomi dunia pada 2050 seperti apa yang diprediksi oleh Goldman Sachs. (***)