KONFERENSI INTERNASIONAL BIDANG HUKUM DI KAMPUS BINUS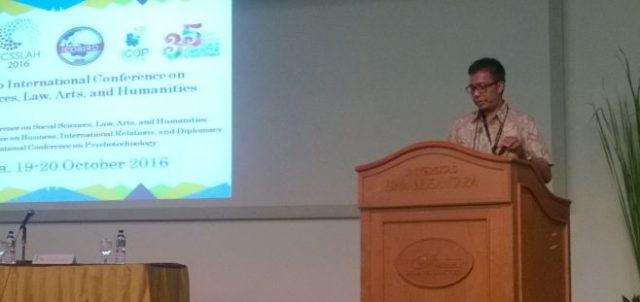 ---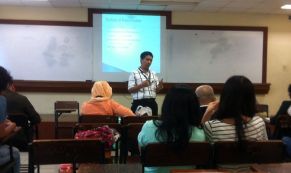 ---
---
Selama dua hari berturut-turut, yakni tanggal 19 dan 20 Oktober 2016, Fakultas Humaniora BINUS menyelenggarakan konferensi internasional kali kedua yang diberi tajuk "The 2nd International Conference on Social Sciences, Law, Arts and Humanities" (the ICSSLAH 2016). Konferensi yang diikuti oleh para pakar dari Indonesia, Malaysia, Thailand, Inggris, Belanda, Taiwan, dan China.
Subtema dari konferensi ini salah satunya adalah bidang hukum (law). Subtema ini dikelola oleh Jurusan Business Law. Dari Jurusan Business Law BINUS sendiri tampil para dosen, yang membawakan berbagai variasi topik, seperti tentang: (1) Islamic banking, (2) legal protection of people with disabilities, (3) cyber defamation, (4) legal language, (5) copy right, brand, and creative industry, dan (6) role of mass media, Para pembicara yang mengisi panel hukum tersebut adalah Abdul Rasyid, Erna Ratnaningsih, Bambang Pratama, Shidarta, Besar, dan Erni Herawati.
Pembicara dari Malaysia, Dr. Mohd. Hazmi bin Moh. Rusli, tampil membawakan topik hukum berjudul "The Natuna Islands: Malaysian in Geography and Indonesian in Sovereignty" yang dibawakannya bersama dengan pembicara internasional lain dari Jurusan Hubungan Internasional dan Psikologi.
Menurut  Dr. Ahmad Sofian, dosen Jurusan Business Law BINUS yang menjadi Ketua Panitia Pelaksana konferensi ini, kehadiran para pakar dari berbagai bidang itu tidak terlepas dari hasil kerja sama dan jaringan yang telah dibangun selama ini. Jurusan Business Law BINUS, misalnya, selain dari Malaysia, juga berhasil menghadirkan desainer dan terapis gerak dari Belanda, yang juga penari balet internasional Andrew Goodman dan isterinya (Eirini) yang adalah seorang ahli filsafat manusia (antropolia) dan penari profesional. Walaupun pasangan ini tidak secara khusus membawakan topik tentang hukum, mereka datang mengisi sesi yang sangat menarik tentang humaniora, yakni seni. Selain itu, perhatian mereka terhadap hak-hak anak yang menderita masalah mental di Indonesia, merupakan sisi menarik yang membuat keduanya tertarik untuk berkunjung lagi ke Indonesia.  (***)