CHENG SHIU UNIVERSITY TAWARKAN KERJA SAMA LEBIH LANJUT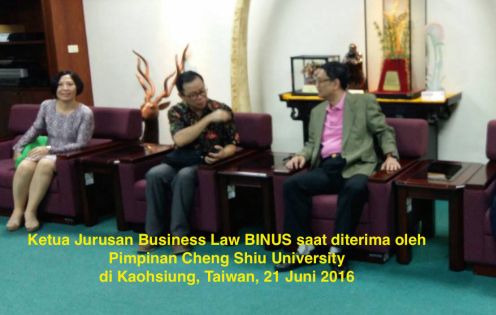 ---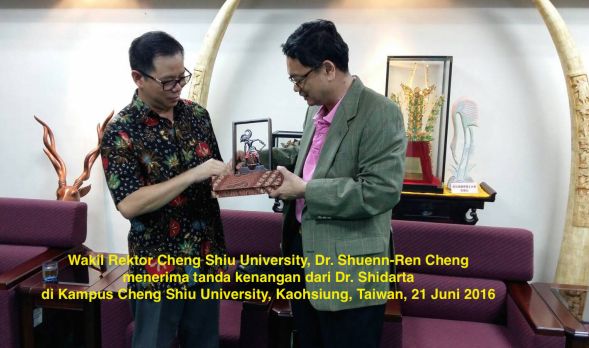 ---
Universitas Cheng Shiu di kota Kaohsiung, Taiwan, berkenan untuk melanjutkan kerja sama dengan memberikan fasilitas studi satu semester kepada para mahasiswa BINUS, termasuk mahasiswa Jurusan Business Law BINUS. Penegasan ini disampaikan pada saat dua dosen BINUS, yaitu Dr. Shidarta dan Ms. Liem Yi Ying, masing-masing dari Jurusan Business Law dan Jurusan Sastra China, diterima oleh Vice President Cheng Shiu University Shuenn-Ren Cheng, MBA, Ph.D. di Gedung Rekorat Cheng Shiu University tanggal 21 Juni 2016. Wakil Rektor didampingi oleh dosen dari Jurusan Bisnis Internasional sekaligus Director of Foreign Affairs Section Office of International Affairs Associate Prof. Tai Wan-Ping, Ph.D. Sementara itu, Ms. Liem Yi Ying juga hadir dalam kapasitas sebagai representasi International Office BINUS.
Sebelumnya kedua dosen BINUS ini juga sempat bertemu dengan Vice Dean dan dosen dari Business Management, Graduate Institute of Business and Administration Hsin-Hung Chen, Ph.D. dan Vice Dean Office of International Affairs dan dosen dari Department tof Civil Engineering & Geomatics Wu-Te Ko. Para dosen BINUS juga diundang melihat fasilitas laboratorium di Departement of Leisure & Sport Management, diantar langsung oleh direkturnya Ke-Tin Yen, Ph.D.
Cheng Shiu University juga tetap membuka diri untuk dilakukan pertukaran dosen, yaitu dua minggu dosen BINUS berkunjung dan memberikan kuliah di Cheng Shiu dan pada waktu yang lain juga ada dosen Cheng Shiu yang datang dan memberikan kuliah di BINUS. Khusus untuk para mahasiswa BINUS, telah disiapkan kamar-kamar khusus untuk para mahasiswa BINUS di lantai dasar asrama mahasiswa dengan fasilitas kamar mandi di dalam kamar.
Pada sekitar bulan Oktober 2016, Tai Wan-Ping, Ph.D. akan berkunjung ke BINUS untuk memberikan kuliah sebagai balasan dari kehadiran Dr. Shidarta dan Ms. Liem Yi Ying yang telah melakukan kegiatan serupa di Cheng Shiu University. (***)