LEGAL OPINION WRITING CONTEST 2016
---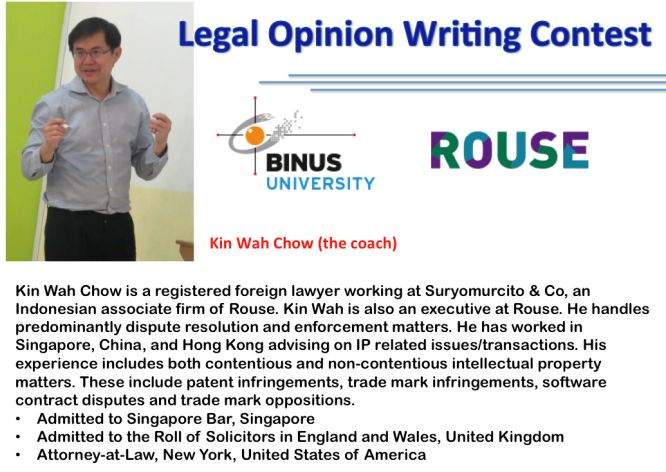 ---
BINUS UNIVERSITY Business Law Department in cooperation with the reputable lawfirm Suryomurcito & Co. presents an English Legal Opinion Writing Contest. This contest is a part of CSR Programs of Suryomurcito & Co. at BINUS Business Law Department.
This contest is open to all students of "BINUS" Business Law Department. Every individual contestant will be given the same international trade case study to work on. The case study requires each contestant to make recommendations on dispute resolution issue and the structuring of certain commercial issues. The objective is to provide students with an opportunity to appreciate requirements of an international law firm practice. From the contest, contestants will also be able to acquire certain "bread and butter" issues that commercial lawyers regularly faced with advising foreign clients.
AWARD
First prize – IDR 1 million
Joint runners-up (two) – IDR 500,000
All participants will be given certificate of participation.
ASSESSMENT FRAMEWORK
25% – demonstrates understanding of issues
25% – communication in plain English
25% – sound reasoning leading to conclusion and application of the law
25% – organisation and presentation
Final score based on average of three or more examiners.
CASE STUDY PROBLEM
Joy Ride is a famous American brand for rucksack. It was born out of San Francisco by two enterprising young men, Benny and Danny. Yenny was studying in California and came across Joy Ride rucksack. She consulted her businessman father, Feri, about distributing the bags in Indonesia. Yenny and Feri both thought that joy ride rucksack would appeal to the undergraduate crowd and believed that their first outlet should be near BINUS Anggerek campus. The plan was to open a dedicated JOY RIDE outlet and the shop would display JOY RIDE signage. Yenny and Feri approached JOY RIDE Inc for an Indonesian dealership and JOY RIDE Inc agreed to certain broad terms to govern the dealership.  Yenny and Feri would set up a company New Co to undertake the new venture. JOY RIDE Inc is prepared to charge New Co at a 40% discount (off Recommendfor Retail Price) for bags that New Co retails to BINUS students at student price of 30% discount off Recommended Retail Price. JOY RIDE Inc requires all senior management of New Co to sign non compete agreement. As to the duration of non-compete, JOY RIDE Inc ask for your recommendation.  Joy Ride Inc understands that it would not be reasonable to expect a permanent non compete obligation on the Indonesian partners. JOY RIDE Inc want the parties to submit all dispute under the agreement to California court, but Yenny and Feri are more comfortable with letting the Jakarta district court decide on all disputes under the dealership agreement. JOY RIDE Inc asked why not agree to giving California court jurisdiction over disputes from the contract.
JOY RIDE Inc asks you for advice on the following DISPUTE RESOLUTION CLAUSE:
Their preference over California court to try any dispute under the agreement and both parties agree to have California law govern the agreement.
What if JOY RIDE Inc accepts Feri's request to designate Indonesian court as forum for dispute resolution? Advise if there is any disadvantage for JOY RIDE Inc to agree to this.
What is a possible compromise if the parties could not settle on either California court or Indonesian court to try future dispute?
Maximum Sale Price:
How does a clause regulating retail price look like?  Please advice.  What should you provide as consequence in the event of a breach.
Non-Compete:
Propose the time duration for non-compete clause and explain your recommendation.
For the purpose of this case study, you are advising JOY RIDE Inc and you are to prepare a letter (your legal opinion) addressed to JOY RIDE Inc.
Send your letter to JOY RIDE Inc. by email to: Mr. Kin Wah Chow [Kchow@rouse.com] and Mr. Shidarta [shidarta67@gmail.com]. Please include your email message with the Subject Line: LEGAL OPINION WRITING CONTEST BINUS 2016
---
IMPORTANT DATES:
March 6, 2016: Deadline for legal opinion submission
March 9 – March 13, 2016: Selection I (desk evaluation)
March 15, 2016: Announcement of the selected oral presenters
March 18-19, 2016: Selection II (oral presentation)
March 19, 2016: Announcement of the winners.