PARTISIPASI DOSEN BINUS DALAM "INTERNATIONAL INSTITUTE OF ISLAMIC THOUGHT"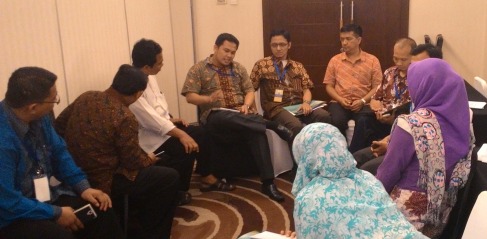 Pada tangggal 20 Maret 2015, Abdul Rasyid, SHI, MCL, Ph.D, Dosen Business Law Binus, diundang oleh International Institute of Islamic Thought (IIIT), mengikuti "Workshop On Research and Textbook Writing Based On Islamisation and Integtration of Knowledge", yang diadakan di Hotel Aston Cengkareng, Jakarta. IIIT adalah organisasi yang konsen terhadap Islamisasi dan integarasi ilmu yang berpusat di Herndon, Virginia, USA. Kegiatan ini dikuti oleh sekitar 70-an akademisi dari berbagai kampus di Indonesia, seperti Universitas Indonesia, Universitas BINUS, Institute Pertanian Bogor, Universitas Hamka, UIN Syarif Hidayatullah, STEI TAZKIA, Universitas Paramadina dll.
Acara ini langsung dibuka dan diisi oleh Prof. Dr. Omar H. Kasule (Secretary General IIIT), Prof. Dr. Dato Wira Jamil Osman (Direktur IIIT East dan SEA) dan Dr. Muhammad Siddik (Koordinator IIIT Indonesia). Tujuan dari Workshop ini untuk memberikan penjelasaan kepada peserta mengenai cara penulisan buku teks dan penelitaan tentang Islamisasi dan integrasi ilmu dalam berbagai bidang Ilmu, seperti sains, pskologi, pendidikan, ekonomi, antropologi, dll.
IIIT medorong para peserta untuk menulis buku teks dan penelitian terkait bidang tersebut dan siap memberikan bantuan dana dalam pembuatan dan penerbitan buku teks dan penelitian tersebut. Buku teks dan penelitian bisa ditulis dalam bahasa Indonesia, Arab dan Inggris. Apabila dalam bahasa Arab dan Inggris, maka IIIT akan menyediakan editor profesional yang dimiliknya. Buku dan penelitian yang dilakukan diharapakan bisa menjadi referensi kuliah di perguruan tinggi masing-masing. Di samping itu, IIIT siap melakukan kerja sama dengan perguruan tinggi di Indonesia dalam mengadakan berbagai forum keilmuan seperti seminar, konferensi dan workshop dengan mendatangkan narasumber kompeten yang dikehendaki. Terkait dengan ini, Abdul Rasyid mengajukan proposal penulisan buku tentang 'Islamic Business Law', yang jika disetujui akan didanai oleh IIIT. (***)