JURUSAN HUKUM BINUS MENDAPAT HIBAH PENELITIAN DARI PEMERINTAH TAIWAN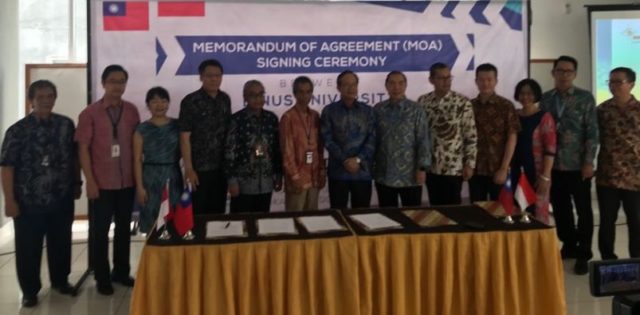 ---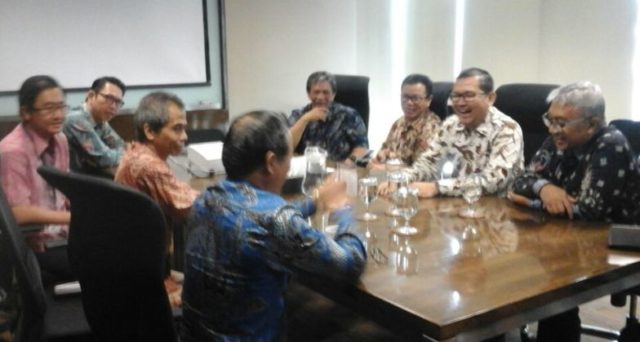 ---
Jurusan Hukum Bisnis (Business Law) BINUS mendapat hibah untuk mengadakan penelitian tentang hukum bisnis dari Pemerintah Taiwan. Dana hibah ini diberikan untuk tiga jurusan sekaligus, yaitu Hukum Bisnis, Hubungan Internasional, dan Sastra China. Oleh sebab itu, ketiga jurusan ini akan berkolaborasi mengelola dana hibah ini sampai dengan tiga tahun ke depan.
Untuk itu suatu memorandum of agreement (MoA) telah ditandatangani oleh representatif dari Taipe Economic and Trade Office di Indonesia Mr. John C. Chen. Acara penandatanganan diadakan pada tanggal 8 November 2017 di Exhibition Hall, lt. 3, Kampus BINUS Anggrek. Dari pihak BINUS tampak hadir CEO BINUS Group Ir. Bernard Gunawan dan semua wakil rektor serta Dekan Fakultas Humaniora.
Dalam acara ramah tamah menjelang acara penandatanganan MoA, Ketua Jurusan Hukum Bisnis BINUS, Shidarta, menyampaikan rencana jurusan dan program studi hukum untuk mengadakan penelitian terkait hukum investasi dan hukum ketenagakerjaan. Dua bidang ini sangat relevan karena menyangkut kepentingan banyak investor Taiwan di Indonesia. Dari penelitian ini diharapkan akan diidentifikasi masalah-masalah krusial apa yang tengah dihadapi dan layak untuk direkomendasikan untuk diatasi.
Dalam sambutannya, Mr. John C. Chen menyatakan pilihannya kepada BINUS University untuk menjalin kerja sama bukanlah tanpa pertimbangan. Ia mencermati BINUS adalah perguruan tinggi swasta terbaik saat ini. Oleh sebab itu, ia berharap kerja sama ini akan dapat membantu kebijakan "menengok ke Selatan" (southbound policy) yang tengah dijalankan Pemerintah Taiwan sekarang. Selain dengan BINUS, Pemerintah Taiwan juga memberikan hibah serupa kepada Universitas Sebelas Maret di Surakarta. (***)