INDONESIA DIHARAPKAN JADI KNOWLEDGE-HUB UNTUK ISU PERSAINGAN USAHA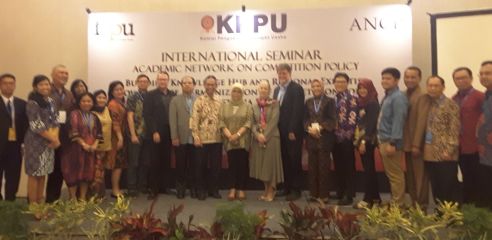 ---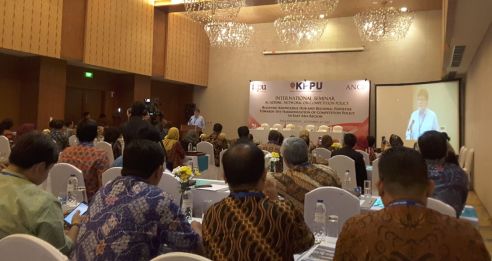 ---
Dalam seminar internasional tentang persaingan usaha yang diberi topik "Building Knowledge HUb and Regional Expertise  towards the Harmonization of Competition Policy in East Asia Region," muncul pemikiran untuk menjadikan Indonesia sebagai knowldege-hub untuk kawasan Asia Timur dan Tenggara terkait diskursus mengenai persaingan usaha. Seminar yang diadakan tanggal 6 September 2017 ini diorganisasikan oleh Komisi Pengawas Persaingan Usaha (KPPU) dan Forum Dosen Persaingan Usaha (FDPU).
Ketua FDPU, Dr. Shidarta dari Jurusan Hukum Bisnis BINUS yang juga hadir pada acara ini bersama dua orang dosen BINUS lainnya, yaitu Dr. Lim Sanny dan Dr. Sevenpri Candra (keduanya dari BINUS Business School), menyambut baik gagasan ini. Untuk itu, pengkajian tentang persaingan usaha di Indonesia harus makin digalakkan. FDPU, wadah para dosen yang didirikan pada tanggal 5 April 2017 lalu di Kampus Alsut BINUS, siap untuk menjadi motor dalam perwujudan gagasan ini, antara lain dengan menghidupkan program-program seperti pelatihan dan seminar untuk kalangan internal dan eksternal FDPU. Seminar yang berlangsung di Hotel Courtyard-Marriott, Nusa Dua Bali ini menampilkan para pakar hukum dan ekonomi dari berbagai negara, seperti Australia, Malaysia, Taiwan, dan Jerman. Prof. Stefan Koos, visiting professor di Business Law BINUS, juga hadir sebagai pembicara kunci.
Dalam acara gala-dinner dalam rangka menyambut para tamu dari berbagai negara, Dr. Shidarta didaulat oleh Ketua KPPU Dr. Syarkawi Rauf untuk memberikan sambutan bersama dengan utusan tamu dari Australia dan Jepang. Pada kesempatan itu, Shidarta menekankan kesiapan para akademisi Indonesia untuk bersinergi dengan komunitas akademik serupa di negara-negara lain. Program terdekat akan diadakan di Sidney Australia, pada tahun 2018 mendatang.
Keesokan harinya, bertempat di Inaya Putri Bali, Nusa Dua, Bali para peserta dari seminar internasional ini juga diundang hadir dalam the 13th East Asia Top Level Official's Meeting on Competition Policy." Dalam acara hari kedua ini disajikan berbagai masalah terkait persaingan usaha, baik menyangkut pengaturan maupun penegakannya. (***)