WHAT OUR GUEST AND VISITING LECTURERS ARE SAYING ABOUT US…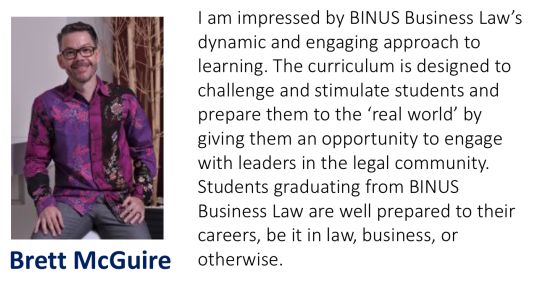 Brett McGuire is a legal counsel at Thiess, the world's largest mining services provider, with global operations in Australia, Asia, Africa and the Americas. His role is to support the Asia business providing legal and regulatory advice to the Asia business unit, including Indonesia, Mongolia, and India. As business integrity representative, he provides direction and leadership on issues pertaining to business integrity, bribery and corruption. Besides, Brett is also an entrepreneur as he has established a restaurant business. He is originally from New Zealand and a graduate from University of Ortago. Brett involves in several activities at BINUS Business Law Program as one of guest lecturers and the judge of legal opinion contest for our law students.
__________________________
 
---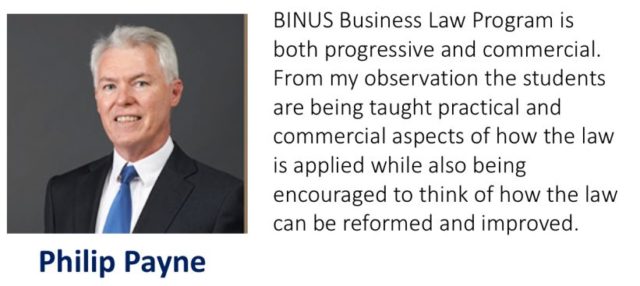 Philip Payne, an Australian, graduated from the University of Sydney in 1981 and is admitted to practice law in Australia and Papua New Guinea. Prior to joining the law firm ABNR in Indonesia, he was a partner in the law firm Blake Dawson for 17 years (including 7 years as that firm's resident partner in Indonesia). He has practiced in Indonesia since 2000 and has considerable experience in the areas of mining, oil & gas projects, direct foreign investment, acquisitions, project finance and asset financing (particularly aircraft and heavy equipment). Philip Payne enjoys to become a guest lecturer at BINUS Business Law where he is welcome to do so in every semester.
___________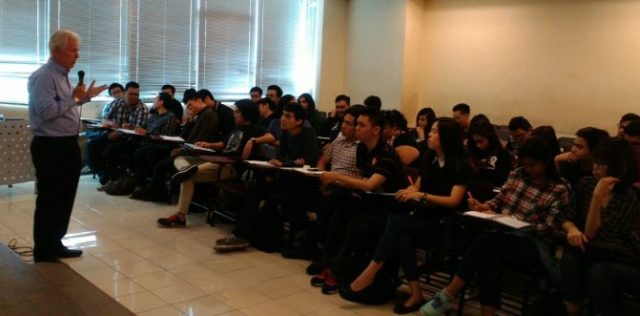 ---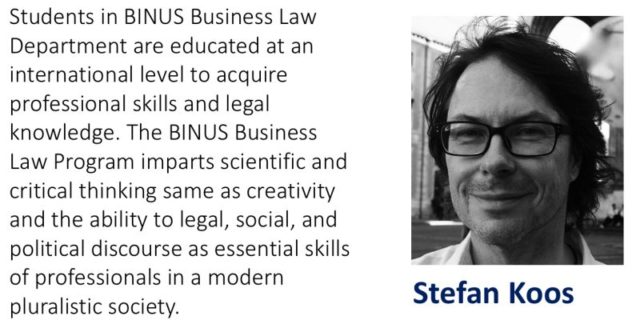 Prof. Dr. Jur. Stefan Koos is a professor for Civil Law and Business Law at the Bundeswehr University, Munich (Germany). He started his career as judge in the German State of Thuringia. In the field of research, Stefan is focused on Competition Law, Intellectual Property Rights, Personality Rights, Conflict of Laws, and Contract Law. Since 2016, Stefan has been a visiting professor at BINUS Business Law Department. His comments are also available at the link as follows:
https://www.youtube.com/watch?v=I9sQPNjZZFc
---